Abu Nuwas: His Life and Poetic Career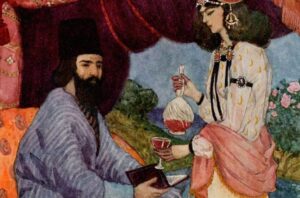 Abu Nuwas His Life and Poetic Career
Abu Nuwas:
His Life and Poetic Career
Abu Nuwas (d. 810 AD) was one of the great poets of the Abbasid period. He was a boon companion and court jester of Caliph Harun al–Rashid. He took birth in the middle of the eighth century in Ahwaz, the capital of Khuzistan. He received his education in Basra which he called to be his native city.  He studied poetry at Kufa under the learned Khalaf al Ahmar. After this, he came to the court of Harun al-Rashid and enjoyed his favour throughout his life. Abu Nuwas by nature was an immoral, drunkard, and blashphemist.
He wrote poems dealing with the themes of praise, ridicule and love. He felt that pleasure was the principal business of life and that religious scruples should not be permitted to stand in the way of enjoyment. No doubt he was a licentious poet, but he revealed and expressed with dignity the ideas and manners prevailing in the court and upper class of society. He précised what he preached through his writings. He wrote the world-famous 'One Thousand and One Nights' and for it, he is known throughout the world. His place as a poet may not be above all of his contemporaries but he is next to none. He died in 810 A. D. 0 0 0.
N. B. This article originally belongs to the book entitled 'Gleaned Essays' by Menonimus.
Books of Composition by M. Menonimus:
Books of S. Story by M. Menonimus:
Related Search: